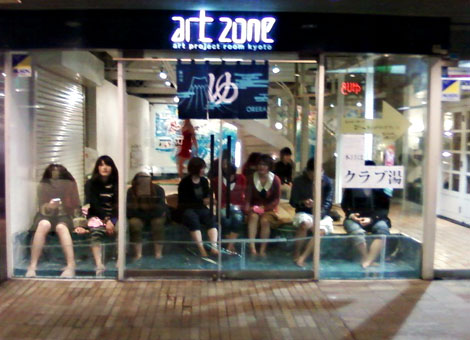 Imagine my surprise when I walked by the
art project room ARTZONE
yesterday and saw all these barefoot people behind the closed entrance doors, dipping their feet in water.
Not that it is unusual for this gallery that its space gets substantially transformed -- I well remember the doubled staircase of the
Ultra Award exhibition
.
And not that
ashi yu
(public footbaths) are something rare in Japan -- especially in hot spring areas, where you can find them even in train stations. (And Kyoto has several, too.)
But the combination of both is bold and exciting.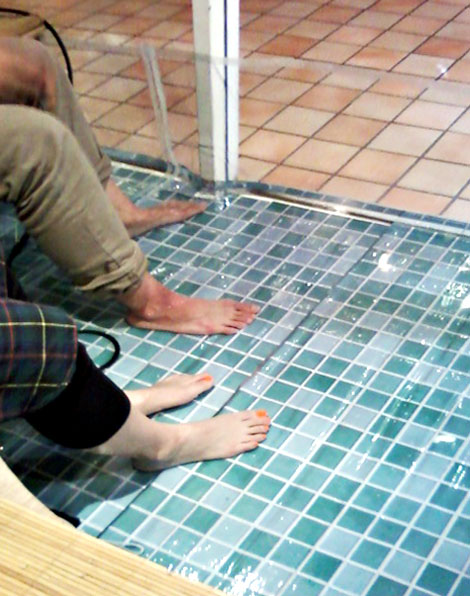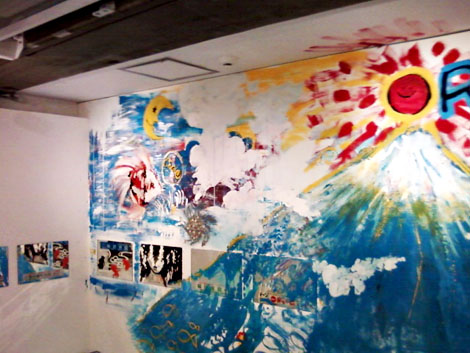 An elevetated floor, some bays left open and covered with plastic sheets, sealed with silicone, some waterproof and isolated heating rods -- that's what it needs to turn an ordinary building into a temporary footbath.
It even doesn't lack the must-have of every Japanese public bath: A wall painting of Mt. Fuji.
Created by an artist group called
ORERA
(all students of the
Kyoto Zokei University of Art and Design
in their 3rd year but from various fields like graphic design, art, sculpture, space design etc.), this space wants to offer a casual and cosy atmosphere where visitors and artists can mingle, faciliting new encounters and ideas.
They call it "
Ore no yu
" (my bath) and everybody is welcome!
To access the gallery, take the elevator in the back of the building to the 2nd floor (just follow the signs).
Different events take place everyday, and there are only two days remaining, so don't miss it.
Today, March 3rd, is
hinamatsuri
(doll's festival), so there will be a special event for little girls.
And tomorrow, on the final day, will be an event for adults only. One member of the artist group promised me that it is going to be extra-ordinary... seems like they have invited a stripper. (Please note: Although it is an event for adults, it happens during daytime, the gallery closes at 17:00).
If you are interested in the previous events at "Ore no Yu", please check the pictures on the
ARTZONE staff blog
.
..........
"Ore no Yu" at art project room ARTZONE; until March 04; on workdays 13:00 - 20:00, on Saturdays, Sundays and holidays 12:30 - 20:00, on the last day until 17:00; admission: free; access map.