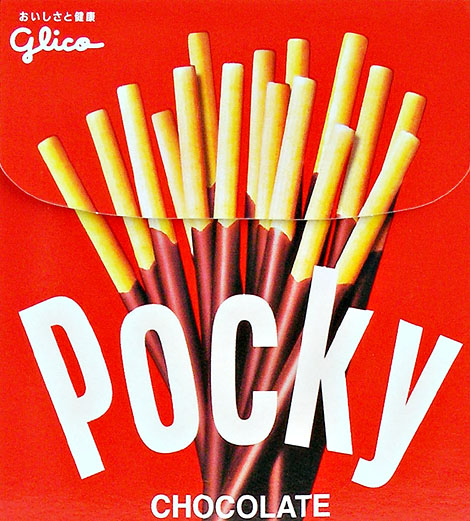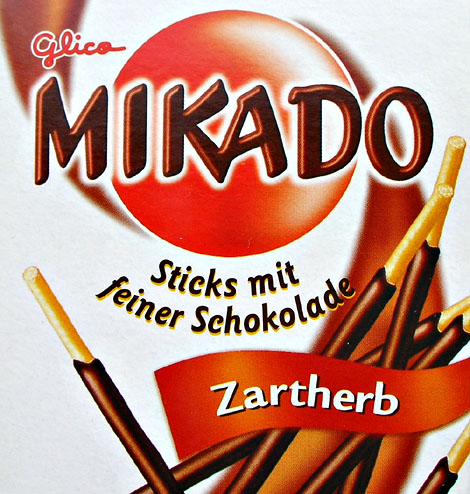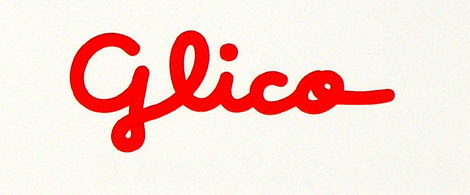 This exhibition report was also posted to Café de OSAKA.
..........
"Okumura Akio and Works" at ddd gallery, Osaka
Do you know
"Pocky"
, the chocolate covered biscuit sticks? In Europe they are called
"Mikado"
, and in some countries it is referred to them as "Rocky". But despite the different names, they are all manufactured by or under the licence from
Glico
—and I am sure, you have noticed their logo on the package.
It is a logo that makes you smile. Its font resembles children's handwriting; warm and playful, it evokes memories of happy and carefree childhood moments. A good representation for a company, that specializes in all kinds of treats.
If you come to Osaka, you currently have the very special chance to meet the designer of this logo,
Akio Okumura
, who made it in 1992.
And when I wrote "meet" in the previous sentence, I mean "meet". In the exhibition at ddd gallery, as the title "Okumura Akio and Works" suggests, not only his works, but also he himself is exhibited.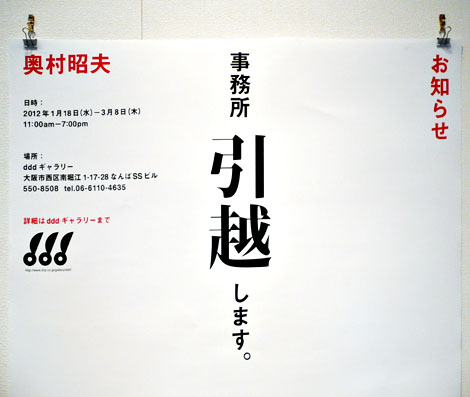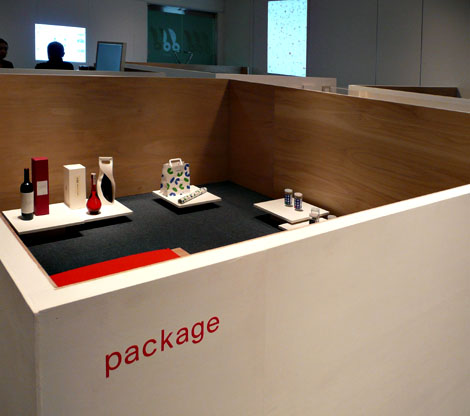 Graphic designer Akio Okumura has temporarily moved his office to the gallery. The exhibition space is partitioned into "cubicles", some of them display his package designs (original products), others his poster designs (projections)—and in one, you'll find Akio Okumura working.
This way, the design process (=what is required for a meaningful result), becomes more comprehensible to exhibition visitors. They even can get involved in it by ordering business cards or a poster. (Please see below for details about schedule and prices.)
When ordering, you can directly experience, how Okumura translates your briefing (=what is the message you would like to convey) into visual language. For him, it is important to show that design is communication. In the way how he arranges words and characters, the font and colour he chooses, he manages to evoke an image that instantly, at one glance, expresses the intended idea.
Even if you don't place an order, feel encouraged to take the chance to talk to Akio Okumura about his designs (preferably in Japanese).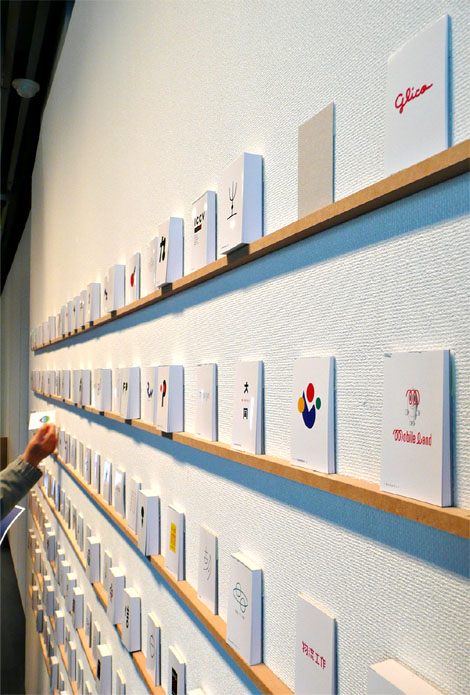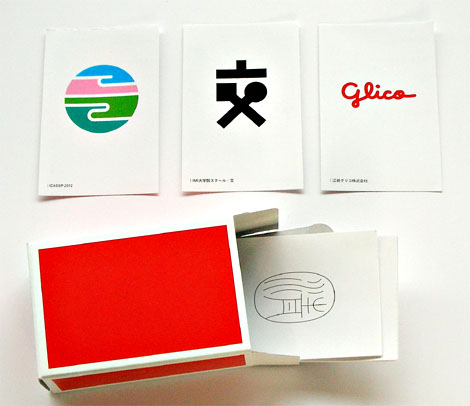 And also take the opportunity to curate your own 'Akio Okumura Logo Design Collection'. Besides the Glico logo, in his more-than-40-years-long career, he has created numerous logos. A huge array of them, printed on business card sized pads, are displayed on a wall in the gallery. Feel free to take the ones that inspire you, and store them in the red boxes (they resemble the soap package design he did for
Cow Brand Soap Kyoshinsha
), which are also provided for free.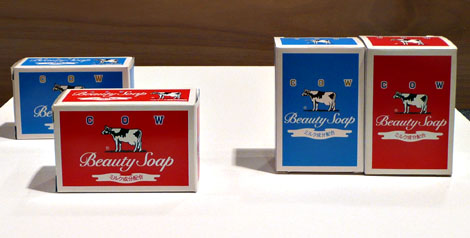 ..........
"Okumura Akio and Works" at ddd gallery, Osaka , until March 08, 2012 (Thursday); Opening hours: 11:00 - 19:00, on Saturdays until 18:00; closed on Sundays, Mondays and national holidays; Admission: free.

Akio Okumura will work at the gallery on the following days: In February on the 22nd, 23rd, 24th, 25th, 29th; and in March on the 1st, 2nd, 3rd, 7th, 8th. (Please understand, that this schedule might be subject to change.)

You can order 80 business cards for 10.000 Yen or 1 poster for 30.000 Yen (design fee included). Design process takes from about 15 minutes to an hour.