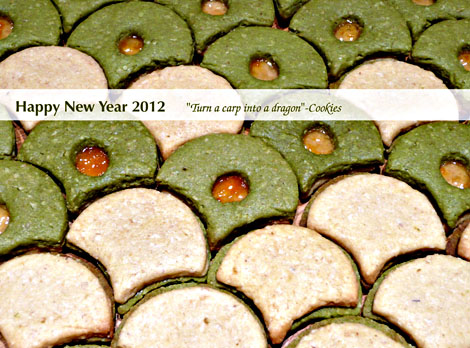 Today, on January 23rd 2012 of the solar calendar, starts the New Year according of the lunar calendar, which was traditionally used in Asia. It stands under the sign of the dragon.
The Asian dragon is, contrary to those of the European tradition, no evil fire breathing monster, it is a most auspicious symbol. The dragon is special, among all the 12 signs of the Chinese Zodiac, it is the only fabulous creature, consisting of various animals. In its appearance, you may recognize the trunk of a snake, the horns of a deer, the claws of an eagle, the scales of a carp, the head of a cow, fangs of a tiger, and, and, and...
And even though the dragon has no visible wings, it can fly.
Countless legends and stories are told about the extraordinary power and abilities of these dragons. Among them, I particularly like the one of the carp, which manages to leap up a waterfall and as a result turns into a dragon. It is an ancient story of Chinese origin; in Zen Buddhism, it is considered as a symbol for enlightenment; and it promises change to the better for those who dare to venture into the seemingly impossible.
With this in mind, I wish you a Happy New Year. 2012 seems to be the right year to successfully take on important endeavors and challenges. Abundant bravery, endurance and achievement to us all!
And for all of you who are in Kyoto or plan to come, in the garden of Kinkaku-ji, the Temple of the Golden Pavilion, you can see a marvelous waterfall, the "ryuumontaki", dragon gate waterfall. Its stone arrangement takes up the theme of the carp striving for metamorphosis.