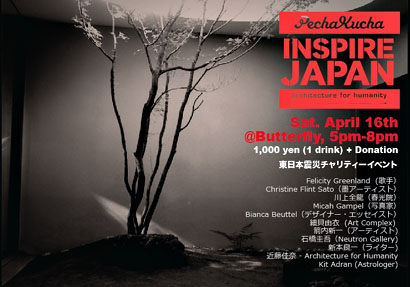 The
Global PechaKucha Day - Inspire Japan
is tomorrow (April 16th)!
The one in
Kyoto
takes place at
Butterfly Kyoto
17:00-20:00. Admission is 1000 Yen (incl. 1 drink) plus suggested donation of 1000 Yen in support of the victims of the disasters in Eastern Japan.
I'll be one of the presenters, talking about the
Japanese Packaging Design Exhibition
, and I'm already nervous!!!
Have a look at the list of presentations, it is going to be an interesting evening:
1. Micah Gampel (Photographer) - Cell phone photography
2. Hosokai Yui (Art Complex) - 300 ways to learn, 300 workshops; the International Workshop Festival [300 DOORS]
3. Christine Flint Sato (Sumi artist) - Sumi Work
4. Kawakami Takafumi (Shunko-in temple) - Religion and Science: Zen
5. Bianca Beuttel (designer-essayist) - Japan Package Design Exhibition and beyond
- Break -
6. Felicity Greenland (Singer) - Singing Around the Table
7. Niimoto Ryoichi (Writer/Kyoto University of Art and Design)
8. Kit Adran (Astrologer)
9. Ishibashi Keigo(Representative director of gallery neutron & ART FAIR KYOTO committee ) - The Future of Japanese Art from Today
10. Aileen Mioka Smith - Green Action Japan
11. Yanai Shinichi (Artist) + Ito Shinya (photographer) - Daily Life (in Fukushima)
See you there!