A unprecedented earthquake and tsunami hit Northern Japan, nuclear plants gone out of control, creating a situation that leaves us all in uncertainty of the future...
More than 3 weeks have passed since then and I haven't said anything here. Dear readers, I have to apologize. But to be honest, I was struggling with the right words. I drafted several posts, but finally, I decided to weave my thoughts into the usual posts and articles to come.
As one result, the Agenda has a new regular feature: "CONTINUE HELPING JAPAN". Please scroll down for it.

And due to the upcoming Japanese Packaging Design Exhibition in Germany, the Agenda still covers two weeks.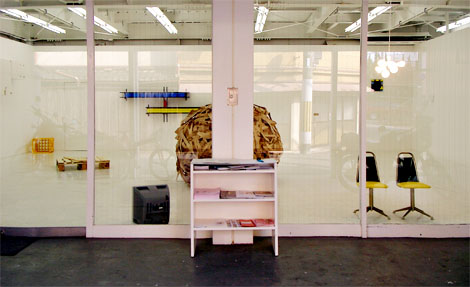 This fortnight's feature:
"Conversation With/About Abstract Objects" at MUZZ space, Kyoto
Yes, I've always believed a hardware store is an inspirational place. A place where ideas origin and/or take shape... This exhibition, however, goes far beyond: Out of the sudden, it takes you from the realms of mundane utility to in-depth thoughts on "What is art?".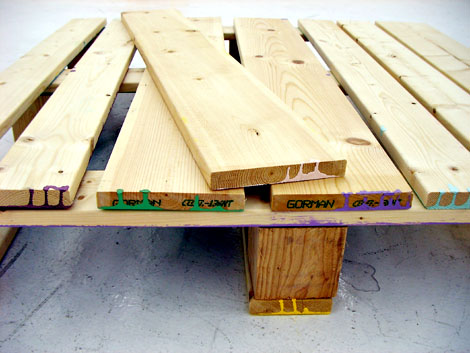 Most of the artworks exhibited are made from goods available at a hardware store. Tape, paint, boxes, lumber, shelves... But they challenge us to look at them differently.
Physically --
Takaaki Izumi's
"Pallet" (2011), seen above, made me kneel down -- and intellectually. Like the objects
Mathieu Mercier
used for "Drum & Bass" (2011), seen below.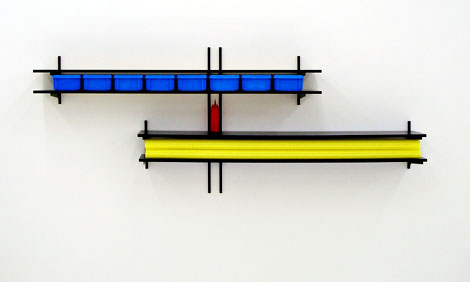 Do you regard the blue boxes on the black shelf still as blue boxes on a black shelf? Or have they transfomed into something different, into a reference to modern art history?
Are they art now?
And if so, is it art because it mimics a famous artwork? Or because of the context of its presentation? (The gallery space, by the way, is a former hardware shop.) Or because the artist declared it as art? Or because the audience sees something in it, which elevates it from being a mere assemblage of hardware store products?
Is the label "art" eventually unnecessary?
As the title of the
exhibition
suggests, we are already in the middle of a conversation with these concrete objects about the abstract concepts we think they might represent.
No, wait... it's just what I think. Influenced by the fact that
Mathieu Mercier
is the winner of the
Marcel Duchamp Prize
in 2003, I recalled some of Duchamp's thoughts...
So, don't miss your chance to interview the objects yourself.
Other participating artists are
Soshi Matsunobe
, featured
here
before,
Koki Tanaka
,
Yuki Kimura
and
Kaz Oshiro
.
Super Window Project in collaboration with MUZZ at HI-NEST building, until April 24; on Fridays, Saturdays and Sundays 13:00 – 20:00.
..........
Additional remark
:
The exhibition was opened about one week after the Great Tohoku Kanto Earthquake struck.
Holding an exhibition at that time as well
, I was particularly impressed by the words of the opening statement:
"

An exhibition is a modest and somehow absurd way to prove ourselves to the world, but this is the only one that we have found, and through it, we managed to stay alive, while fear, devastation and death is still striking Japan.

"
Read the whole message on
Abitare
.
..........
KYOTO
Exhibition
"Kyogei - Transmit Program #2 - Displacement"
at gallery
@KCUA
of the
Kyoto City University of Arts
(April 09 - May 22; 11:00 - 19:00, closed on Monday; opening reception: April 09, from 17:00 on).
Exhibition
"Modern Architecture in Kyoto"
at the
Museum and Archives
of the
Kyoto Institute of Technology
(until May 08, 2011; 10:00-17:00, closed on Sundays and national holidays; admission: 200 Yen).
"Conversation with Mr. H" by Ayako Kurihara at DEMADO Contemporary Art Project
(until June 01, 2011;
access
).
recommended:
An art lecture from the hardware store
Observe obscure systems operating behind the scenes
20 x 20 for Japan
Design shopping
OSAKA
Exhibition
TROPE
at
graf mouth
(until May 15, 11:30-20:00; closed on Mondays).
Exhibition "Shueitai 100" at
ddd gallery
(until May 11; 11:00 - 19:00, on Saturdays until 18:00; closed on Sundays, Mondays and national holidays) and at
Morisawa & Company, Ltd.
(until May 11; 10:00 - 17:00; closed on Saturdays, Sundays, Monday and national holidays;
map
).
Exhibition
"Air Hole: Another Form of Conceptualism from Asia" at the National Museum of Art Osaka
(until June 5, 2011; 10:00 - 17:00, on Fridays until 19:00, closed on Mondays; admission: 420 Yen).
recommended:
Foreigner's Live Art Guide
| | |
| --- | --- |
| | For more exhibitions and events about art and design in Osaka rely on FLAG. |
CONTINUE HELPING JAPAN
We all have seen the devastating pictures of the Great Tohoku Kanto Earthquake and Tsunami. It goes without saying that rebuilding Japan will take time. Thus, as a new regular part of the agenda, I decided to offer some suggestions on how to keep on supporting Japan in this time of suffering and need.
| | |
| --- | --- |
| | Join the Zoukin (cleaning rag) Project by the sewing cafe Sibayo, and make rags for the people in Nothern Japan to help them cleaning up their houses. The rags should be made from old cotton towels. Choose a thread in a cheerful colour to sew them. The instructions are in Japanese, but very easy to grasp. It's very simple, even for sewing newbies. Sibayo collects the rags and sends them there. |
..........
On the Agenda are events in Kyoto - and also in Osaka and Kobe - that I'm interested in and plan to attend --

shamelessly subjective

.
Although the list isn't meant to be complete, I hope it provides some valuable tips for those interested in art and design in Kansai.
Kindly note that the above dates and times are subject to change.