Feels funny to have an own event on the agenda this time: The Japanese Package Design Exhibition in Osaka until March 21. Still a lot to do, so the Agenda continues to cover

two weeks

.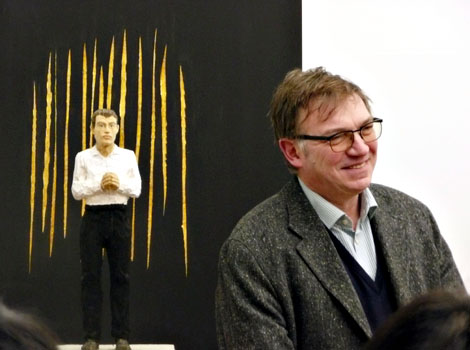 The artist next to his work at the opening talk
This fortnight's feature:
Stephan Balkenhol at Tomio Koyama Gallery, Kyoto
When you go to a foreign country, you often observe things more precisely than the local inhabitants.
*)
I was in the final preparations for the JPDEx exhibition, which shows Japanese package design from a foreigner's point of view, when I was attending the opening talk of Stephan Balkenhol's exhibition. And so his words particularly resonated with me.
With his new works, German artist Balkenhol tried
to tune in Japan
*), digesting impressions of previous trips to Japan. The work with the drawing behind the yellow-orange jalousie (see picture below), as he explained further, was inspired by the strong colors used to advertise Japanese drugstores.
Balkenhol is famous for his wood sculptures, but notice the clasped hands of the one next to him on the picture above. The whole arrangement with the panel in the background is influenced by the sublime minimalism of traditional Japanese esthetics.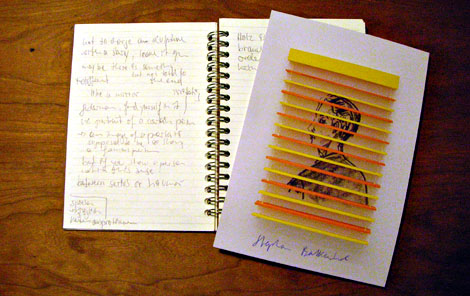 My notes with the exhibition flyer, kindly signed by the artist
But saying all this might already be too much. Balkenhol doesn't want to charge his work with a story, he prefers to leave the interpretation open to the recipient. His works do not portray certain persons, they rather picture "jedermann" (anyone). Thus, they are also considerd as a mirror, where you can discover yourself and -- in the case of the current exhibition at Tomio Koyama Gallery -- a reflection of Japan.
Tomio Koyama Gallery, Kyoto, until March 19; 11:00 - 19:00; closed on Sunday, Monday and on national holidays.
*) Sentences in italics are only paraphrases, NO original quotations by Stephan Balkenhol.
KYOTO
Special Video Screening for the movie
Horikawanakatachiuri
at
kara-S
(March 07, 11:00-18:00 and March 08, 11:00-20:00).
Exhibition
"tightrope walking"
at
Kyoto Art Center
(March 08 - 27, 2011; 10:00-20:00).
Kyoto Original Product Shop Exhibition
featuring
Bolts Hardware Store
and
Pull + Push Products
at
Fujii Daimaru department store
(2F, March 12 - 21, 2011; 10:30 - 20:00).
Exhibition
"Conversation With/About Abstract Objects"
, a collaboration between
Super Window Project
and
MUZZ Program space at the HI-NEST building
(March 19 - April 24; on Saturdays and Sundays 12:00 – 20:00).
Exhibition
"To celebrate the 60th anniversary of Raku Kichizaemon XV - Part II: From Tenmon to Today" at the Raku Museum
(until March 13 2011; 10:00 - 16:30, closed on Mondays; admission: 900 Yen; there are special
"Handling Sessions"
on the first Saturday and Sunday of each month (2000 Yen, includes admission).
Exhibition
"In Absentia" by LG Williams
, at
Super Window Project
(until March 27; on Fridays, Saturdays and Sundays 13:00 - 20:00).
Exhibition
"Modern Architecture in Kyoto"
at the
Museum and Archives
of the
Kyoto Institute of Technology
(until May 08, 2011; 10:00-17:00, closed on Sundays and national holidays; admission: 200 Yen).
"Conversation with Mr. H" by Ayako Kurihara at DEMADO Contemporary Art Project
(until June 01, 2011;
access
).
recommended:
Wooden reflections of Japan
OSAKA
Exhibition
"Breaker Project"
at
Osaka City Museum of Modern Art Shinsaibashi Temporary Exhibition Space
(until March 21; 11:00-19:00, closed on Wednesdays; admission: 500 Yen).
Exhibition
" Air Hole: Another Form of Conceptualism from Asia" at the National Museum of Art Osaka
(March 08 - June 5, 2011; 10:00 - 17:00, on Fridays until 19:00, closed on Mondays; admission: 420 Yen).
recommended:
To unwrap something, you need to wrap it first
| | |
| --- | --- |
| | Japanese Package Design Exhibition at the gallery space D~ba in E-ma (until March 21; 11:00-21:00; designer talk with Akio Okumura: March 12, 17:00- 18:00, admission: 1000 Yen, reception party from 18:30; gallery tour with me (OMG): March 20, 14:00-16:00, admission: 1000 Yen - includes an original tote bag). |
See with your ears, hear with your eyes
| | |
| --- | --- |
| | Exhibition "phono/graph" at ddd gallery (until March 09; 11:00 - 19:00, on Saturdays until 18:00; closed on Sunday, Monday and on national holidays). Featured here. |
Foreigner's Live Art Guide
| | |
| --- | --- |
| | For more exhibitions and events about art and design in Osaka rely on FLAG. |
..........
On the Agenda are events in Kyoto - and also in Osaka and Kobe - that I'm interested in and plan to attend --

shamelessly subjective

.
Although the list isn't meant to be complete, I hope it provides some valuable tips for those interested in art and design in Kansai.
Kindly note that the above dates and times are subject to change.