Have you seen the logos on the sidebar?

There are two events in Osaka I'm involved in, and they are (among others) the reason why the Agenda will cover

two weeks

for a few months now. Looking forward to tell you more about those events soon.
This fortnight's feature:
Masashi Hattori's installation at Kyoto Art Center
As a part of the CRIA exhibition
Can you guess how this painting was done?
Let me give you a hint. The title is "Hand - Rainbowshoot - Foot".
And it is sports related.
Actually, I'm not so fond of this sport. When I watch it, to be honest, I'm more interested in the design of the jerseys, or the way the sponsors are reprensented in advertisments.
But some modification of the game, like the one
Masashi Hattori
suggests here, could redirect my attention to the ball...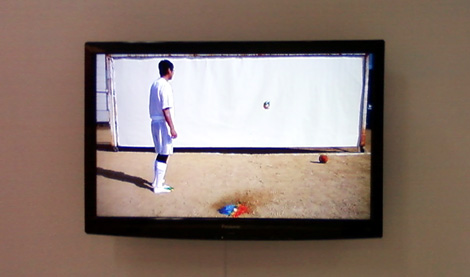 You've guessed it. It was done by penalty shootout! Soccer.
Don't miss the 'making of'-video and watch how the goal scorer examines the result on the canvas after the shoot. You'll never be able to look at a "normal" goal like this...
Kyoto Art Center, until January 27; 10:00-20:00.
KYOTO
Exhibition "Various Speeds" at
MATSUO MEGUMI+VOICE GALLERY pfs/w
(February 05 - 27; 12:00-19:00, on the last day until 17:00, closed on Mondays; opening party: February 05, 17:00-19:00).
TRANS COMPLEX
at
Kyoto Art Center
(February 05 - 27; 10:00-20:00).
Exhibition
"To celebrate the 60th anniversary of Raku Kichizaemon XV - Part II: From Tenmon to Today" at the Raku Museum
(until March 13 2011; 10:00 - 16:30, closed on Mondays; admission: 900 Yen; there are special
"Handling Sessions"
on the first Saturday and Sunday of each month (2000 Yen, includes admission).
Flea market "Tenjin-san" on the grounds of
Kitano Tenmangu Shrine
(every month on the 25th).
Antiques flea market on the grounds of
Toji Temple
(February 06, 7:00 - 16:00, on the first Sunday every month).
recommended:
Sports meets Arts
OSAKA
Kurome-Garo at
Baikado
(until February 06; 13:00-19:00, closed on Tuesdays and Wednesdays).
Nakaban
Exhibition at Calo Gallery of
Calo Bookshop and Cafe
(January 29 - February 19; 12:00-20:00, on Saturdays until 18:00, on the last day until 17:00, closed on Sundays and Mondays).
Exhibition
"phono/graph" at ddd gallery
(until March 09; 11:00 - 19:00, on Saturdays until 18:00; closed on Sunday, Monday and on national holidays).
Exhibition
"Lucie Rie: A Retrospective" at the Museum of Oriental Ceramics Osaka
(until February 13, 2011; 9:30 - 17:00, closed on Mondays (but open on January 10) and on January 11; admission: 900 Yen,
discount ticket
).
recommended:
Foreigner's Live Art Guide
| | |
| --- | --- |
| | For more exhibitions and events about art and design in Osaka rely on FLAG. |
..........
On the Agenda are events in Kyoto - and also in Osaka and Kobe - that I'm interested in and plan to attend --

shamelessly subjective

.
Although the list isn't meant to be complete, I hope it provides some valuable tips for those interested in art and design in Kansai.
Kindly note that the above dates and times are subject to change.