Happy 2011, dear readers!


Please note that the Agenda will cover

two weeks

for a few months now.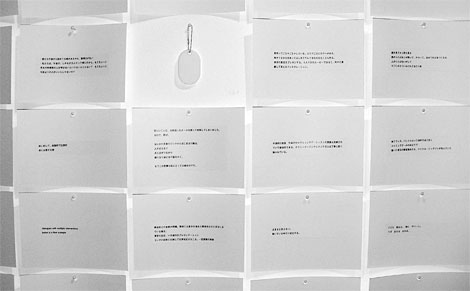 This fortnight's feature:
Assistant retrospective at rep - radlab. exhibition project, Kyoto
Climbing up the steep stairs to the
radlab exhibition space
is worth the effort. It is not a usual architecture and design retrospective that awaits you up there.
Rather than displaying sketches, pictures, models etc. of projects and works, the walls of the room are covered with filing cards. On these cards are random thoughts and associations, some in English, most in Japanese. The scene is puzzling.
Consider yourself in the archive of
assistant
, a 2002 founded architecture and design unit with the core members Megumi Matsubara and Hiroi Ariyama. As soon as you choose one card -- the one I picked read:
why monochromic
1.democratic for the viewer
2.to make one unit of individual pieces that has individual message
3.decorate than imitation --
you will discover a sticker on the back, similar to the kinds familiar from libraries.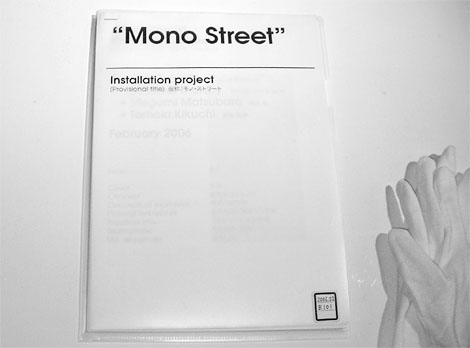 It matches some material stored in the room next door, but now brought to you -- in my case it was a concept for an installation project from 2006.
You can browse and read through this material, explore other documents, even borrow the card (not the material itself), ponder about it for one week and give it back with some notes of yours.
With this procedure assistant intensify the experience of their work. The (con)text written on the cards makes you curious and sets your focus, the way you look at the material. You might see less, but what you see remains more memorable.
It reminds us to make wise use of the personal and physical interaction possible at exhibitions. Otherwise clicking through an online portfolio might also do. (
Theirs
is, nevertheless, worth a look.)
rep - radlab. exhibition project, until January 16; from Thursday to Sunday, 13:00-20:00.
KYOTO
"GUTIC STUDY" exhibition by Toshiaki Yamaoka at Gallery Parc
(January 11 - 23; 11:00-19:00, on the last day until 17:00, closed on Mondays).
Graduation show of the
Kyoto Seian University of Art and Design
at the
Kyoto Municipal Museum of Art
(January 19 - 23, 9:00 - 17:00, on the last day until 16:00). Fashion show of the fashion class on January 22 (15:00 as well as 19:00) and on January 23 (13:00 as well as 17:00) at the
Art Complex 1928 hall on the 3rd floor
.
Exhibition
"To celebrate the 60th anniversary of Raku Kichizaemon XV - Part II: From Tenmon to Today" at the Raku Museum
(until March 13 2011; 10:00 - 16:30, closed on Mondays; admission: 900 Yen; there are special
"Handling Sessions"
on the first Saturday and Sunday of each month (2000 Yen, includes admission).
Voices for Umekoji
at
UrBANGUILD
(January 21; 18:30, tickets: 2000 Yen (incl. 1 drink), students/advance tickets: 1500 Yen).
recommended:
Assistant allows access to their archives
OSAKA
Exhibition
"phono/graph" at ddd gallery
(January 18 - March 09; 11:00 - 19:00, on Saturdays until 18:00; closed on Sunday, Monday and on national holidays).
Exhibition
"Lucie Rie: A Retrospective" at the Museum of Oriental Ceramics Osaka
(until February 13, 2011; 9:30 - 17:00, closed on Mondays (but open on January 10) and on January 11; admission: 900 Yen,
discount ticket
).
recommended:
Foreigner's Live Art Guide
| | |
| --- | --- |
| | For more exhibitions and events about art and design in Osaka rely on FLAG. |
..........
On the Agenda are events in Kyoto - and also in Osaka and Kobe - that I'm interested in and plan to attend --

shamelessly subjective

.
Although the list isn't meant to be complete, I hope it provides some valuable tips for those interested in art and design in Kansai.
Kindly note that the above dates and times are subject to change.