This is part of the

Decoding Kyoto

series.
..........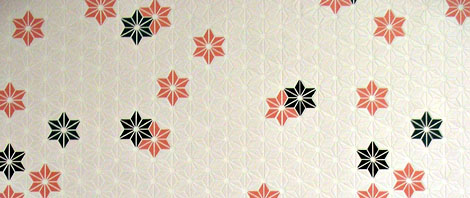 Tiles, souvenir shop at Kyoto station.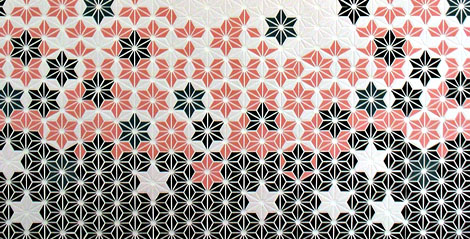 Tiles, souvenir shop at Kyoto station.
The presence of traditional Japanese patterns throughout Kyoto -- from textiles and paper to ceramics and other objects to interior design and architectural details -- aroused my curiosity, and in the
komon monyou

card set
by
MONKARUTA
I found a lovely resource to learn more about them -- and to practice reading Japanese as well.
In addition to the two sets with matching pictures, to play Pairs (Memory) and various other games, there is a third set of cards with a brief explanation of the pattern's usage and meaning.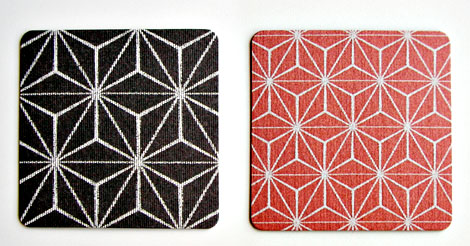 Komon monyou

cards picturing the

asa-no-ha

pattern.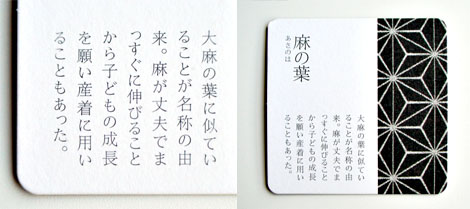 Komon monyou

explanation card.
The popular
asa-no-ha
-pattern is the first I chose to dwell on. Its explanation on the card above translates as follows:
The name derives from the resemblance of hemp leaves. Since hemp is sturdy and grows upright, it was also used for baby clothes, wishing for the child's growth.
Although in former times the pattern was used for
kirikane
ornaments (gold or silver foil cut into thin strips) applied to Buddha statues (Heian period, 794-1185) and for embroidered Buddhist images (Kamakura period, 1185–1333, and Muromachi period, 1336-1573), I haven't consciously noticed it at temples yet.
Later, in the Edo period (1603-1868), the pattern became extremely fashionable after it appeared on
kabuki
costumes for young female roles.
Nowadays in Kyoto, you'll find the
asa-no-ha
-pattern not only on a huge variety of fabrics but also applied to the interior design of shops and restaurants.
The pattern's geometric modularity invites to play with repetition and variation, positive and negative space, different colors and outline shape.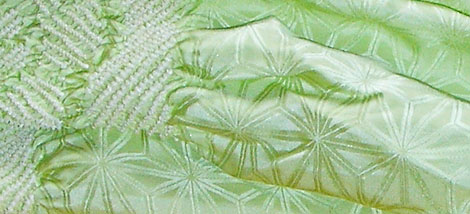 Silk, woven pattern.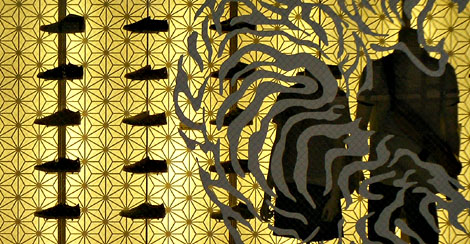 Shop interior, Onitsuka Tiger, Times Building (crossing of Sanjo Street and Kiyamachi Street).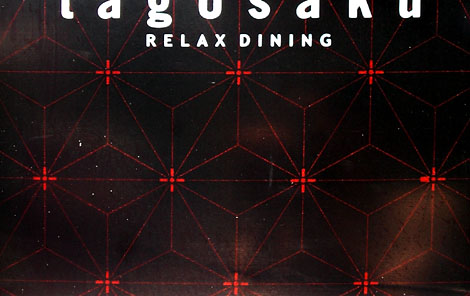 Restaurant sign, down town around Shijo Street.

Lamp shade, restaurant floor, Yodobashi Camera.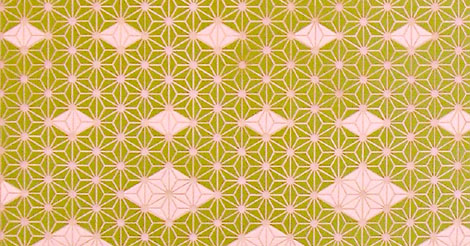 Tiles, souvenir shop, Kyoto station.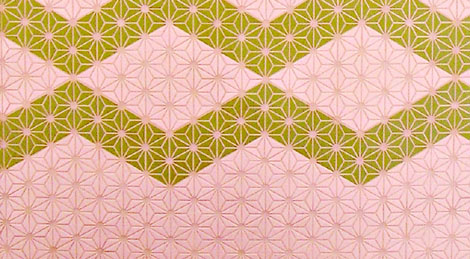 Tiles, souvenir shop, Kyoto station.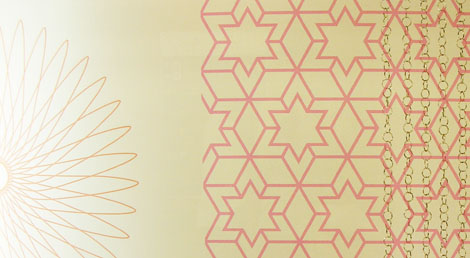 Shop window, Daimaru department store.
And it also appears in Hideki Katsumura's KYOTO ISSUE, featured
here
. Can you find it?
..........
Designs, patterns, objects, details -- Kyoto is full of things with hidden meanings. In this loose series of posts I'm trying to "decode" them.