Please note:

The Agenda goes on holiday. See you again in 2011.
Merry Christmas and a Happy New Year!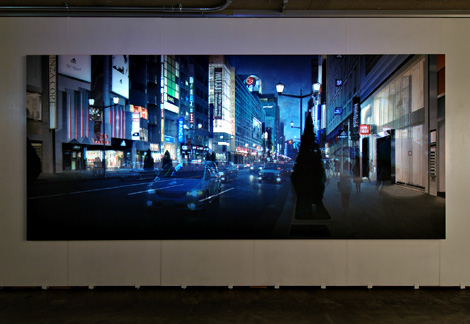 Photo courtesy of the artist.
This week's feature:
"Sampling Your Memory" by Yukihiro Yamagami at Gallery Parc, Kyoto
"Sleep Walking", the main piece of the show, is a work you must experience. A photo can't convey its subtle effect of oscillating between two media.
You might want to rub your eyes: A painting that slightly changes? The sky seems to glow, then night falls on Ginza, the vibrant district of Tokyo pictured here.
Then you watch the video projection. People and cars are passing by, in slow motion. But they are faint, allowing the panel painting to show through.
Likewise, the vague, tranquil atmosphere makes you wonder whether you are dreaming or awake.
Also, don't miss the video installation "Dancing Neon" projected on the window of the gallery. Best viewed from the outside, before or after you visit the exhibition.
Gallery Parc, until December 26; 11:00-19:00, closed on Mondays.
Yukihiro Yamagami's homepage.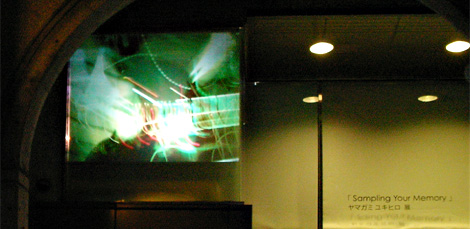 Important

: The opening hours of the exhibitions listed in the following may vary during the Japanese New Year's holiday. Please double check their websites before going.
KYOTO
Rocca Night at kara-S
(December 21; 19:00-22:00).
"Pillow Talk #1"
(screening of performance movies) at
Gura
(December 23; 19:00-22:00; admission 800 Yen with hors d'oeuvre; reservation required by December 22).
Exhibition
"To celebrate the 60th anniversary of Raku Kichizaemon XV - Part II: From Tenmon to Today" at the Raku Museum
(January 07 – March 13 2011; 10:00 - 16:30, closed on Mondays; admission: 900 Yen; there are special
"Handling Sessions"
on the first Saturday and Sunday of each month (2000 Yen, includes admission).
Candle light exhibition "Underwater Trip" by
Kaoru Kan
at
Gallery Antenna
(until 15 - 26; 17:00-20:00).
Assistant
retrospective at
rep - radlab. exhibition project
(until January 16; from Thursday to Sunday, 13:00-20:00; closed between December 26 - January 5).
Super Window Project is
CLOSED
(until January 09, 2011).
Exhibition
"Withered Beauty in Tea Kettles" at Onishi Seiwemon Museum
(until December 23; 10:00-16:30, closed on Mondays; admission: 800 Yen).
Flea market "Tenjin-san" on the grounds of
Kitano Tenmangu Shrine
(every month on the 25th).
Antiques flea market on the grounds of
Toji Temple
(January 02, 7:00 - 16:00, on the first Sunday every month).
recommended:
Painting and video installation melded into one
Design shopping
OSAKA
Exhibition
"Lucie Rie: A Retrospective" at the Museum of Oriental Ceramics Osaka
(until February 13, 2011; 9:30 - 19:00 (until December 25, after that 9:30 - 17:00), closed on Mondays (but open on December 13, 20 and January 10), during New Year's holidays (December 28 – Tuesday, January 4) and on January 11; admission: 900 Yen,
discount ticket
).
Exhibition
"IN / OUT" by Ryoko Takahashi at studio J
(until December 25; 13:00 - 19:00, closed on Sundays, Mondays and Tuesdays).
recommended:
Posters of another great master of graphic design
Rattling on the track of eternity
Foreigner's Live Art Guide
| | |
| --- | --- |
| | For more exhibitions and events about art and design in Osaka rely on FLAG. |
..........
On the Agenda are events in Kyoto - and also in Osaka and Kobe - that I'm interested in and plan to attend --

shamelessly subjective

.
Although the list isn't meant to be complete, I hope it provides some valuable tips for those interested in art and design in Kansai.
Kindly note that the above dates and times are subject to change.