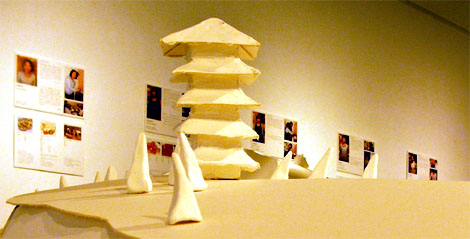 This week's feature:
"Kyoto Dinner Experiments" at Kyoto Art Center
Have you ever been to Kyoto's Nishiki Market and wondered about all the different foods sold there?
What is that?
Or
how to prepare this?
Bettina Hvidevold Hystad from Norway and Simon Torssell Lerin from Sweden must have felt the same at the beginning of their 3-month
Artist in Residence in Kyoto
.
Luckily, they are two young artists whose work is centered around involving people and place. And so they decided to invite locals (I also
participated
) to cook together and to share recipes.
Since fish is common in both Scandinavia and Japan, they made for each dinner a typical fish dish from their home countries and asked their Japanese guests to show them how to prepare fish the Japanese way.
This turned out to be a fruitful way to learn about Japanese culture and life. While doing something they were familiar with, even nervous participants relaxed, and cooking proved as communication without words.

Hybrid dishes: "Dill-shoyu salmon teriyaki" (left) and "Smoked herring, cucumber and wakame" (right)
But not enough, Bettina and Simon challenged their guests to create a hybrid dish based on the experience of the dinner, to be served at the opening party of the project exhibition. An assignment that intensified the exchange and the attention to the other culture.
Thus, the cultural exchange itself became an artwork, reminding the idea of "social sculpture". The individuum can shape the world it lives in by the way it acts.
"

Through the dinners we wanted to create new meetings and collaborations that otherwise wouldn't occur.

"

Kyoto Art Center, until December 19; 10:00-20:00.
Bettina and Simon share their experience, complete with pictures and recipes, on their KAC A.I.R. blog.
If you are interested in the Artist in Residence program of Kyoto Art Center, the application form for 2012 will be available from April 2011.
KYOTO
Candle light exhibition "Underwater Trip" by
Kaoru Kan
at
Gallery Antenna
(December 15 - 26; 17:00-20:00).
Assistant
retrospective at
rep - radlab. exhibition project
(until January 16; from Thursday to Sunday, 13:00-20:00; closed between December 26 - January 5).
Ceramic Exhibition "quietude" by
Yoshimi Azuma
at the design gallery
Division
(until December 18; 12:00-19:00, closed on Sundays).
"Sculptor's atelier"
at the former Rissei elementary school (work in progress open to the public: until December 6, exhibition: December 7 - 13; 12:00-17:00).
Super Window Project is
CLOSED
(until January 09, 2011).
Exhibition
"Withered Beauty in Tea Kettles" at Onishi Seiwemon Museum
(until December 23; 10:00-16:30, closed on Mondays; admission: 800 Yen).
recommended:
Painting and video installation melded into one
Cultural encounters as art
Design shopping
OSAKA
Exhibition
"Lucie Rie: A Retrospective" at the Museum of Oriental Ceramics Osaka
(until February 13, 2011; 9:30 - 19:00 (until December 25, after that 9:30 - 17:00), closed on Mondays (but open on December 13, 20 and January 10), during New Year's holidays (December 28 – Tuesday, January 4) and on January 11; admission: 900 Yen,
discount ticket
).
Exhibition
"IN / OUT" by Ryoko Takahashi at studio J
(until December 25; 13:00 - 19:00, closed on Sundays, Mondays and Tuesdays).
recommended:
Posters of another great master of graphic design
Rattling on the track of eternity
Foreigner's Live Art Guide
| | |
| --- | --- |
| | For more exhibitions and events about art and design in Osaka rely on FLAG. |
..........
On the Agenda are events in Kyoto - and also in Osaka and Kobe - that I'm interested in and plan to attend --

shamelessly subjective

.
Although the list isn't meant to be complete, I hope it provides some valuable tips for those interested in art and design in Kansai.
Kindly note that the above dates and times are subject to change.