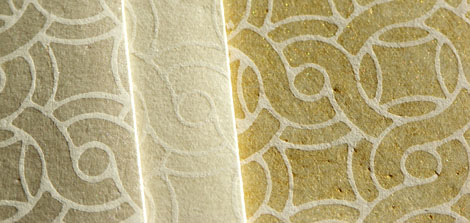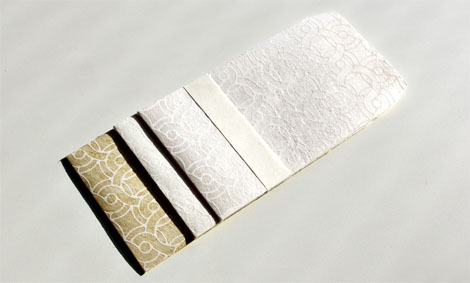 This week's feature:
"kami no katachi" at Urban Research, Kyoto
The gallery shop in the basement of
Urban Research's
Kyoto branch is always a recommended spot to get your hands on great Japanese design.
Their current main selection celebrates paper and the various forms it can take:
- from a medium for beautiful prints -- like the
karakami
(wood block printed paper, using mica) by
Kamisoe
(pictured above)
- to objects that evolve into three-dimensionality -- like the
filigree "air vase" by Torafu Architects
(below a picture from a previous exhibition)
- to a soft yet durable material for bags and baskets -- like the
SIWA product line
by paper maker
Onao
in collaboration with Naoto Fukasawa.
The shop window display features paper as well. An installtion playing with gradation and resolution.
URBAN RESEARCH Kyoto branch in Teramachi street, until December 26; 11:00 - 21:00.
Some goods of the previous selections (Kyo-to-to and novelax store) are also still available.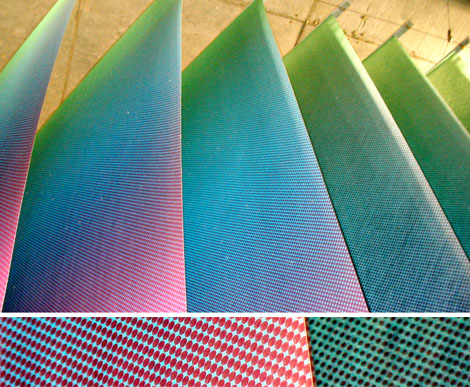 KYOTO
Exhibition
"Kyoto Dinner Experiments - A Scandinavian Observation" at Kyoto Art Center
(December 12 - 19; 10:00-20:00; opening: December 11, from 18:00 on).
Assistant
retrospective at
rep - radlab. exhibition project
(until January 16; from Thursday to Sunday, 13:00-20:00; closed between December 26 - January 5; opening and mini lecture: December 10, from 18:00 on).
Ceramic Exhibition "quietude" by
Yoshimi Azuma
at the design gallery
Division
(December 6 - 18; 12:00-19:00, closed on Sundays).
"Sculptor's atelier"
at the former Rissei elementary school (work in progress open to the public: until December 6, exhibition: December 7 - 13; 12:00-17:00).
Super Window Project is
CLOSED
(until January 09, 2011).
Exhibition
"Withered Beauty in Tea Kettles" at Onishi Seiwemon Museum
(until December 23; 10:00-16:30, closed on Mondays; admission: 800 Yen).
recommended:
Design shopping
Frank insights into an artist's creative struggles
OSAKA
Exhibition
"IN / OUT" by Ryoko Takahashi at studio J
(until December 25; 13:00 - 19:00, closed on Sundays, Mondays and Tuesdays).
Exhibition
"Ikko Tanaka Posters 1953 - 1979" at ddd gallery
(November 09 -December 22; 11:00 - 19:00, on Saturdays until 18:00; closed on Sunday, Monday and on national holidays).
recommended:
Digital, experimental, short
Rattling on the track of eternity
Foreigner's Live Art Guide
| | |
| --- | --- |
| | For more exhibitions and events about art and design in Osaka rely on FLAG. |
..........
On the Agenda are events in Kyoto - and also in Osaka and Kobe - that I'm interested in and plan to attend --

shamelessly subjective

.
Although the list isn't meant to be complete, I hope it provides some valuable tips for those interested in art and design in Kansai.
Kindly note that the above dates and times are subject to change.