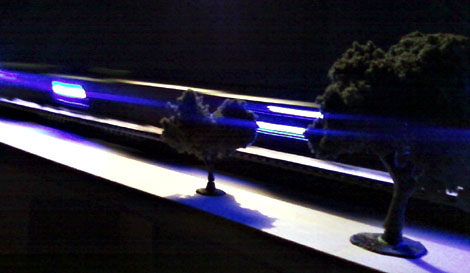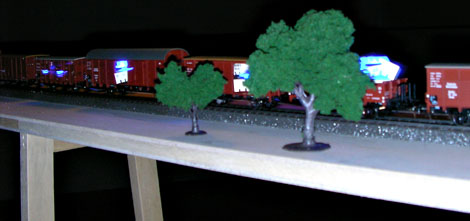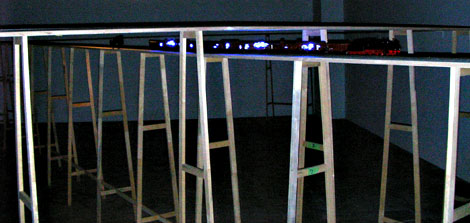 This week's feature:
"Time Train" by Tatsuo Miyajima at the COMME des GARÇONS art space SIX, Osaka
The train of time runs on a track shaped like a lying eight -- with some deviations, but still recognizable -- the symbol of eternity. And it carries small LED counters, significant for Tatsuo Miyajima's work. Here, they emit blue light.
For his installation
"Sea of Time '98", a part of the "Art House Project" on Naoshima
, he requested the residents of a village to set the counting speed of the counters used there. Each counts down from 9 to 1, then starting again with 9. Some of them are faster, some slower. Thus, the counter represents the individual pace and life cycle of a person.
The fact, that these 'human life cycles' are loaded on a model railway which consists only of goods waggons, strongly evokes the impression of deportation trains to Auschwitz.
Never-ending deportation to concentrations camps - what a nightmare.
Desperately I tried to find another perspective on the work. Then I realized that this train never arrives, it is perpetually on its way, passing trees, passing a tunnel, passing trees, passing a tunnel -- but it never reaches a final destinstion. There simply is none.
On this eternal track, depending on the pace, a life cycle may happen only in a dark tunnel, ceasing just before the end of the tunnel, but another cycle may be exposed to a landscape with trees.
Miyajima's works are inspired by
three concepts:
'Keep Changing', 'Connect with All' and 'Goes on forever'. From a limited view, life is bound to death, but here we are given a more universal outlook.
And while watching the train going around and around the largely unadorned track, we might understand why Buddhism seeks to escape from the endless cycle of rebirth.
"Time Train" will absorb you in existential thoughts. It is intense -- be prepared.
COMME des GARÇONS art space SIX (Minamisenba 3-12-22 Fuji Building 2F; Shinsaibashi, Osaka), until December 29; 12:00 - 19:00, closed on Mondays.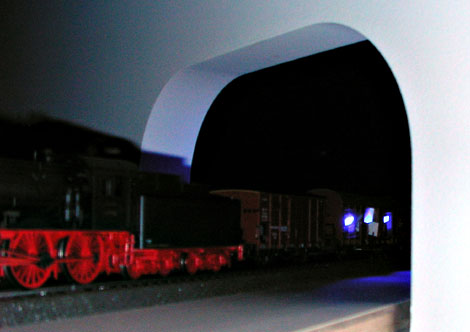 KYOTO
DOTMOV Festival 2010
at
Cafe Independants
(November 22 - 28; 18:00 - 24:00) and at
Dojidai Eizo Studio 1928
(November 23 - December 05; 12:00 - 19:00, closed on Mondays).
Kyoto International Student Film and Video Festival
at
Kyoto Cinema
(November 27 - December 04; 500 Yen per ticket or 1000 Yen for a free pass).
Super Window Project is
CLOSED
(until January 09, 2011).
Exhibition
"Unanswered Love of Pottery" by Shun Yamauchi at art project room ARTZONE
(until November 28; on workdays 13:00 - 20:00, on Sundays and holidays 12:30 - 20:00, on the last day until 17:00).
Kyoto Student Arts Exhibition 2010: ArtsBar@Rissei
at the former Rissei elementary school (until November 28; 12:00-19:00).
Exhibition
"Withered Beauty in Tea Kettles" at Onishi Seiwemon Museum
(until December 23; 10:00-16:30, closed on Mondays; admission: 800 Yen).
Kyoto Experiment
- Kyoto International Performing Arts Festival (until November 23).
Flea market "Tenjin-san" on the grounds of
Kitano Tenmangu Shrine
(every month on the 25th).
recommended:
Risking the body
Frank insights into an artist's creative struggles
UJI
Manpukuji Art Festival
(November 27 - 28; 12:00 – 18:00; admission: 800 Yen (one-day ticket) or 1500 Yen (two-day ticket); Night Before Party: November 26, from 18:00 on, admission: 1700 Yen).
KOBE
Rokko Meets Art
festival (September 18 - November 23; 10:00 – 17:00; admission: 1800 Yen).
OSAKA
DOTMOV Festival 2010
at
digmeout ART&DINER
(November 25 - December 12)
Exhibition
"Ikko Tanaka Posters 1953 - 1979" at ddd gallery
(November 09 -December 22; 11:00 - 19:00, on Saturdays until 18:00; closed on Sunday, Monday and on national holidays).
recommended:
Creative gatherings organized by OOO
| | |
| --- | --- |
| | "Shovel vol.7" at hitoto (from 19:00 on Saturday, November 27; admission: 600 Yen including one tea by tea coordinater Yuriko; reservation required). More here. |
Rattling on the track of eternity
Read between the 'dots'
| | |
| --- | --- |
| | Exhibition "Most things happen in the interval" by Naho Kawabe at Port Gallery T (until December 4; 12:00 - 19:00, on Saturdays until 18:00, closed on Sundays). Featured here. |
Foreigner's Live Art Guide
| | |
| --- | --- |
| | For more exhibitions and events about art and design in Osaka rely on FLAG. |
..........
On the Agenda are events in Kyoto - and also in Osaka and Kobe - that I'm interested in and plan to attend --

shamelessly subjective

.
Although the list isn't meant to be complete, I hope it provides some valuable tips for those interested in art and design in Kansai.
Kindly note that the above dates and times are subject to change.