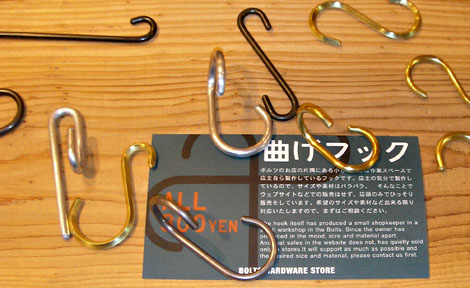 This week's feature:
"Kyoto Original Product Shop Exhibition 2010" at Fujii Daimaru department store, Kyoto
This glimpse of Kyoto based design activities includes: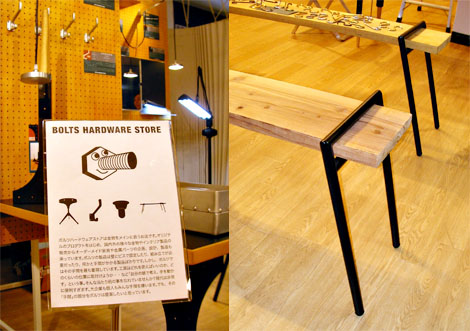 - The items of
Bolts Hardware Store
, industrial but with a warm touch. From bended hooks (in the picture on the top of this post) to the stands for a work bench (on the right in the picture above), Masaya Asahi comes up with refreshing ideas for metal hardware. The
tool box
is the coolest ever and the
LED pendant light
is a "gotta-have".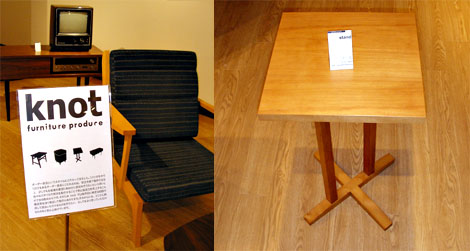 - The solidly built pieces of
Knot Furniture
. Their flagship product is this simple yet elegant Shaker-like side table on the right in the picture above.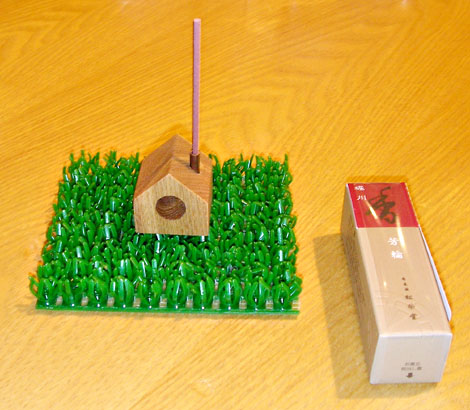 - And the "furniture and lifestyle tools" of
Songbird Design by Masaki Tokuda
. Characteristic is the bird house theme, in the picture above it is applied to an incense stand.
If you miss the exhibition, don't worry, they all have shops, cafes and showrooms in the city. Here are the maps:
Knot Funiture showroom
Songbird Design Store and Cafe
Bolts Hardware Store.
Fujii Daimaru department store, 6F, until November 17; 10:30 - 20:00.
KYOTO
Super Window Project is
CLOSED
(November 19, 2010 - January 09, 2011).
Exhibition
"Unanswered Love of Pottery" by Shun Yamauchi at art project room ARTZONE
(until November 28; on workdays 13:00 - 20:00, on Sundays and holidays 12:30 - 20:00, on the last day until 17:00).
Kyoto Student Arts Exhibition 2010: ArtsBar@Rissei
at the former Rissei elementary school (November 19 - 28; 12:00-19:00).
Exhibition
"Withered Beauty in Tea Kettles" at Onishi Seiwemon Museum
(until December 23; 10:00-16:30, closed on Mondays; admission: 800 Yen).
Kyoto Experiment
- Kyoto International Performing Arts Festival (until November 23).
recommended:
New designs for Kinugawa's "Drop Paper"
Bolts Hardware, Knot Furniture and Songbird Design
Risking the body
Frank insights into an artist's creative struggles
KOBE
Rokko Meets Art
festival (September 18 - November 23; 10:00 – 17:00; admission: 1800 Yen).
OSAKA
Exhibition
"Ikko Tanaka Posters 1953 - 1979" at ddd gallery
(November 09 -December 22; 11:00 - 19:00, on Saturdays until 18:00; closed on Sunday, Monday and on national holidays).
recommended:
Rattling on the track of eternity
Read between the 'dots'
| | |
| --- | --- |
| | Exhibition "Most things happen in the interval" by Naho Kawabe at Port Gallery T (until December 4; 12:00 - 19:00, on Saturdays until 18:00, closed on Sundays). Featured here. |
Foreigner's Live Art Guide
| | |
| --- | --- |
| | For more exhibitions and events about art and design in Osaka rely on FLAG. |
..........
On the Agenda are events in Kyoto - and also in Osaka and Kobe - that I'm interested in and plan to attend --

shamelessly subjective

.
Although the list isn't meant to be complete, I hope it provides some valuable tips for those interested in art and design in Kansai.
Kindly note that the above dates and times are subject to change.