This is part of my photo report on the Living & Design Satellite and DESIGNEAST 01 in Osaka 2010.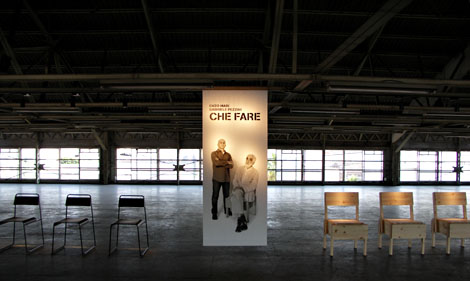 20 chairs.
On the left, in black, 10 LINEA chairs by
Gabriele Pezzini
for
lapalma
.
A beautiful yet minimal silhouette, making the best possible use of the material while ensuring functionality, from sitting comfort to stackability.
On the right, wooden, 10 "Sedia 1" chairs by Enzo Mari for
artek
It comes actually as a do-it-yourself kit of unassembled pine boards, nails and blueprints, and is meant as a homage to Mari's "Autoprogettazione" project of the 1970s. These days, Mari created blueprints of 19 different furniture designs -- easy to assemble from commonly available material. The plans were available for free to everybody. Today, artek charges 220 Euro (approx. 25000 Yen).
There are just 20 chairs in this huge hall, but the longer you look at it, the longer you think about it, the space gets filled with essential questions on the role of design in our soceity.
Thus, one of the main themes of
DESIGNEAST 01
, until October 03, is also set: Collaboration, open source, alternative ways of production and consumption.