This week's feature:
ULTRA AWARD 2010 at art project room ARTZONE, Kyoto
If you are familiar with the art project room ARTZONE venue, you'll be confused by Taro Komiya's architectonic intervention (pictured above). He directs our attention to a feature of the building that we have taken for granted. Now, however, we have to wonder which of the spiral staircases is the "real" one. An important question, since the fake structure -- like a mirror image -- is physically existent but consists only of a thin layer, veneer board.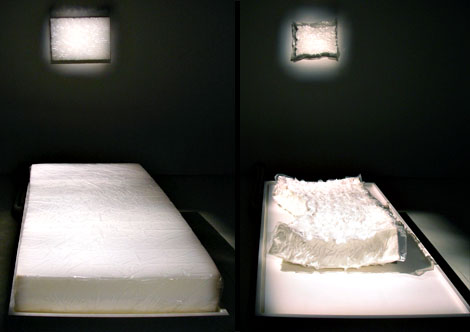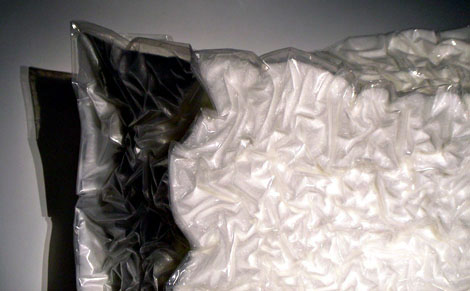 Ascending the right staircase, you'll be able to see more artworks nominated for the first
ULTRA AWARD
. The competition aims to prepare young talents (students and recent graduates of the
Kyoto Zokei University of Art and Design
) for the international art stage.
The shortlisted artists have worked hard for 4 months at the
Ultra Factory
workshop to realize their concepts, and a jury will decide the final winner during the exhibition.
Among the candidates is also the artist duo toki kake (Aki Fujimoto and Fumi Chujo). Their installation, a compressing and decompressing 'bedding', reminds me of a theme I recently frequently encounter: "Breathing" -- be it
Takashi Kunitani's work
, the
breathing sculptures by Yu Sato
or the
video installation "Counter Voice with Nachi Falls" by Tatsuo Miyajima
shown as a part of the exhibition
"My Favorites - Index of a Certain Collection"
at the National Museum of Modern Art Kyoto.
Transmitting tension or tranquility, 'breathing art' makes our body react. We can physically feel the vital power of the breath rhythm.
art project room ARTZONE, until November 07; on workdays 13:00 - 20:00, on Sundays and holidays 12:30 - 20:00, on the last day until 17:00.
Ultra Factory is an interdisciplinary workshop at the Kyoto Zokei University of Art and Design directed by the artist Kenji Yanobe, famous for the fire-spitting robot 'Giant Torayan'. Get an impression of the Ultra Factory workhop here.
KYOTO
Exhibition
"New Incubation Series 02, Stelarc x contact Gonzo - BODY OVERDIRVE" at Kyoto Art Center
(October 30 - November 28, 10:00 - 20:00; performances by contact Gonzo on October 31 (18:00) and November 21 (17:00), and by Stelarc on November 18 (19:30, web broadcast from London)).
Exhibition
"Withered Beauty in Tea Kettles" at Onishi Seiwemon Museum
(until December 23; 10:00-16:30, closed on Mondays; admission: 800 Yen).
Kyoto Experiment
- Kyoto International Performing Arts Festival (October 28 - November 23).
Works by ceramic artist Ryoto Aoki at
Tomio Koyama Gallery Kyoto
(until October 30; 11:00 - 19:00, closed on Sundays, Mondays and national holidays) and
eN arts
(until October 30; on Fridays, Saturdays and Sundays, 12:00-18:00).
Exhibition
"Film Without Film" by SHIMURABROS
at
Taka Ishii Gallery
(until October 30; 11:00 - 19:00, closed on Sundays, Mondays and national holidays)
Flea market "Tenjin-san" on the grounds of
Kitano Tenmangu Shrine
(every month on the 25th).
recommended:
Showcasing the shortlisted artists
Frank insights into an artist's creative struggles
OMIHACHIMAN
Biwako Biennale 2010
(until November 07; 10:00 - 17:00, closed on Tuesdays; admission: 1000 Yen).
KOBE
Rokko Meets Art
festival (September 18 - November 23; 10:00 – 17:00; admission: 1800 Yen).
OSAKA
Dutch Life/Design Exhibition Hoi!
(several venues in Osaka, throughout October)
recommended:
How to attract attention: ADC Awards
| | |
| --- | --- |
| | ADC Exhibition 2010 at ddd gallery (until October 30; 11:00 - 19:00, on Saturdays until 18:00; closed on Sunday, Monday and on national holidays). |
Foreigner's Live Art Guide
| | |
| --- | --- |
| | For more exhibitions and events about art and design in Osaka rely on FLAG. |
..........
On the Agenda are events in Kyoto - and also in Osaka and Kobe - that I'm interested in and plan to attend --

shamelessly subjective

.
Although the list isn't meant to be complete, I hope it provides some valuable tips for those interested in art and design in Kansai.
Kindly note that the above dates and times are subject to change.