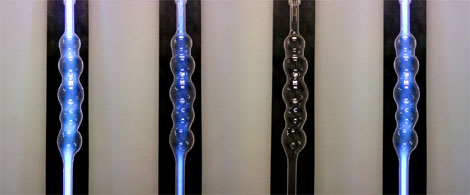 This week's feature:
Takashi Kunitani at Gallery Hosokawa, Osaka
As a part of the exhibition "Takuma Uematsu x Takashi Kunitani, New Works"
As a designer, I'm always interested in designs that transcend the mere material realm, that create an opportunity for reflection and contemplation.
Artworks often offer valuable clues on that, and Takashi Kunitani's neon light art is such a work.
We all know neon lights: Mundane offices, flickering luminous advertising.
But Kunitani's neon tubes are different. It's not just that they are mouth-blown at a workshop in Kyoto, first of all, it is their shape. The tubes are not straight, the trace of every single breath is visible.
In a
previous exhibition at CASO
the entire tubes showed these traces. At Gallery Hosakawa, however, only a few traces are concentrated in the upper part of an otherwise straight tube. Blue light appears and disappears 18 times per minute -- the pace of Kunitani's breath.
Watching the object has a calming effect. It visualizes the exhaling and inhaling, makes us aware of the all-connecting essential of life.
Gallery Hosokawa, until October 23; 12:00 – 18:30; closed on Sundays and national holidays.
Kyoto
Exhibition
"nothing and something" by Yuasa Ryosuke at rep - radlab.exhibition project
(until October 11; from Thursday to Sunday and on national holidays).
"Sanjusangendo" exhibition by Yasuhiko Kida at the Daimaru Museum Kyoto
(October 06 - 18; 10:00 – 20:00; admission: 700 Yen).
Works by ceramic artist Ryoto Aoki at
Tomio Koyama Gallery Kyoto
(until October 30; 11:00 - 19:00, closed on Sundays, Mondays and national holidays) and
eN arts
(until October 30; on Fridays, Saturdays and Sundays, 12:00-18:00).
Exhibition
"Film Without Film" by SHIMURABROS
at
Taka Ishii Gallery
(until October 30; 11:00 - 19:00, closed on Sundays, Mondays and national holidays)
"depth" - Shin Takamatsu Laboratoy exhibition at Asphodel
(October 02 - 10; 11:00 - 20:00, on the last day until 17:00).
Yoga
in the park of the Imperial Palace (October 09; from 9:15).
Omihachiman
Biwako Biennale 2010
(until November 07; 10:00 - 17:00, closed on Tuesdays; admission: 1000 Yen).
Kobe
Rokko Meets Art
festival (September 18 - November 23; 10:00 – 17:00; admission: 1800 Yen).
Osaka
Dutch Life/Design Exhibition Hoi!
(several venues in Osaka, throughout October)
recommended:
18 times per minute
How to attract attention: ADC Awards
| | |
| --- | --- |
| | ADC Exhibition 2010 at ddd gallery (until October 30; 11:00 - 19:00, on Saturdays until 18:00; closed on Sunday, Monday and on national holidays). |
Foreigner's Live Art Guide
| | |
| --- | --- |
| | For more exhibitions and events about art and design in Osaka rely on FLAG. |
..........
On the Agenda are events in Kyoto - and also in Osaka and Kobe - that I'm interested in and plan to attend --

shamelessly subjective

.
Although the list isn't meant to be complete, I hope it provides some valuable tips for those interested in art and design in Kansai.
Kindly note that the above dates and times are subject to change.