This week's feature:
"New Incubation Series 02, Stelarc x contact Gonzo - BODY OVERDIRVE" at Kyoto Art Center, Kyoto
Last week I wrote about
'breathing art'
that we can physically feel... so how will your body respond to the performances of
Stelarc
and
contact Gonzo
, currently exhibited at Kyoto Art Center?
Well, as for my part, I felt my heart beating faster while watching contact Gonzo's performance (pictured above), a mixture of street fight, dance, contact improvisation and martial arts. And when they suddenly climbed up the balustrade just in front of me, quite an amount of adrenaline was released into my blood...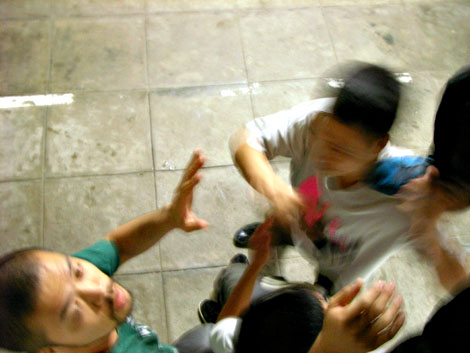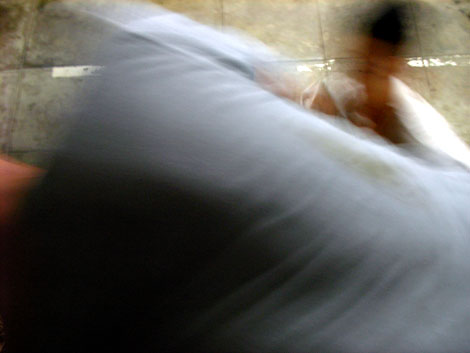 The 'Incubation Series' at Kyoto Art Center bring together veteran and upcoming artists in order to provoke encounters that provide fresh viewpoints - be it on art, society or lifestyle.
Videos and a sound installation by contact Gonzo -- the upcoming artists, formed 2006 by Yuya Tsukahara and Masaru Kakio -- is juxtaposed with pictures of performances by Stelarc who is widely known for projects like "Ear on Arm", "Third Hand" (which is actually exhibited) or the suspensions of his body with hooks inserted into the skin.
Exposed to the extreme challenges these artists present to their bodies, we start reflecting about our own body.
Stelarc's robotically and prosthetic extended avatar-like body, remote controlled and internet manipulated, seems like a foretelling of our digital lifestyle today, addicted to gadgets and social media, neglecting the (obsolete?) body, far away from the intense experience of contact Gonzo's colliding bodies, agressive, yet elegant, in tune with nature after spending the night before the performance on the peak of Mount Hiei.
Since Stelarc and contact Gonzo are performance artists, don't miss their performances:
- Stelarc on November 18 (19:30, web broadcast from London)
- contact Gonzo on November 21 (17:00)
Kyoto Art Center, until November 28; 10:00 - 20:00.
You can find an interview with contact Gonzo on SHIFT.
KYOTO
Exhibition
"Withered Beauty in Tea Kettles" at Onishi Seiwemon Museum
(until December 23; 10:00-16:30, closed on Mondays; admission: 800 Yen).
Kyoto Experiment
- Kyoto International Performing Arts Festival (until November 23).
Antiques flea market on the grounds of
Toji Temple
(November 07, 7:00 - 16:00, on the first Sunday every month).
recommended:
Risking the body
Showcasing the shortlisted artists
Frank insights into an artist's creative struggles
OMIHACHIMAN
Biwako Biennale 2010
(until November 07; 10:00 - 17:00, closed on Tuesdays; admission: 1000 Yen).
KOBE
Rokko Meets Art
festival (September 18 - November 23; 10:00 – 17:00; admission: 1800 Yen).
※
FLAG
offers a special tour to see 'Rokko Meets Art': November 6; 9:30 - 16:00; 2000 Yen (includes the ticket); contact: info@f-l-a-g.net
※
OSAKA
Tatsuo Miyajima "Time Train"
at the COMME des GARÇONS art space SIX (November 03 - December 29; 12:00 - 19:00, closed on Mondays).
fujii+fushikino exhibition and sale at millibar gallery
(November 06 - 08; 11:30 - 20:00).
recommended:
Foreigner's Live Art Guide
| | |
| --- | --- |
| | For more exhibitions and events about art and design in Osaka rely on FLAG. |
..........
On the Agenda are events in Kyoto - and also in Osaka and Kobe - that I'm interested in and plan to attend --

shamelessly subjective

.
Although the list isn't meant to be complete, I hope it provides some valuable tips for those interested in art and design in Kansai.
Kindly note that the above dates and times are subject to change.