tea scoop improvised.
AGI hanging scroll exhibtion.
My first impression of the newly opened design space
kara-S
at
Cocon Karasuma
:
Wow, great supplier for cool contemporary tea utensils!
I simply loved this improvised tea scoop! Unfortunately, the name of the student who made it was nowhere mentioned, but he participated in a workshop by Sergio Calatroni held at Kyoto Seika University (which runs kara-S).
One assignment was to create something new from material at hand, and the results are shown in the exhibition "trace of identity" until August 18.

Next door is the AGI (Alliance Graphique Internationale) hanging scroll exhibtion (until September 19). Graphic designers from around the globe meet the challenge to create their own interpretation of the traditional Japanese hanging scroll.
If I had the choice, I would choose the one on the right to decorate my

tokonoma

alcove.




Design by Leonardo Sonnoli.
But even if you are not into tea, you'll find something inspiring -- at the exhibitions and the shop. (Please bear this
tea obsession
of mine.)
Like the analog emoticon stamp
kaoiro
, for example, using the date stamp mechanism. This is fun! Remember, in Japan, you need to know Hiragana, Katakana, Kanji
and
the Japanese emoticons to understand what people are writing about.
Or
Noto Fusai's
"three-dimensionally" illustrated T-Shirts, recently mentioned on
SNOW-mag
and
Spoon and Tamago
.
kara-S is open every day, 11:00 - 20:00. (
map
)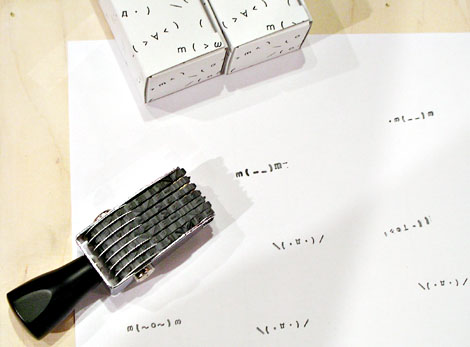 kaoiro

stamp by ginghami.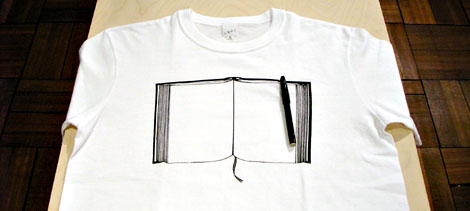 T-Shirt by Noto Fusai. Yes, it comes with a real pen!