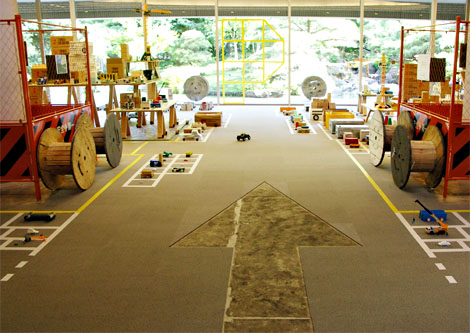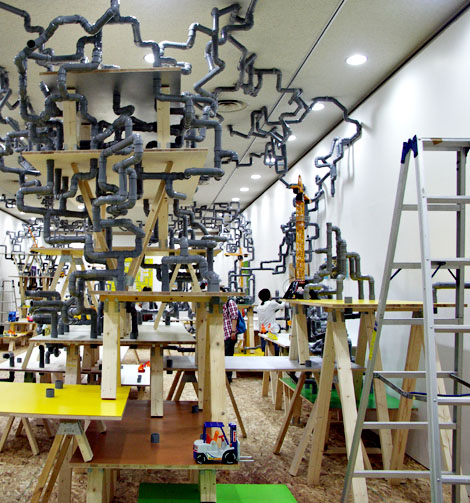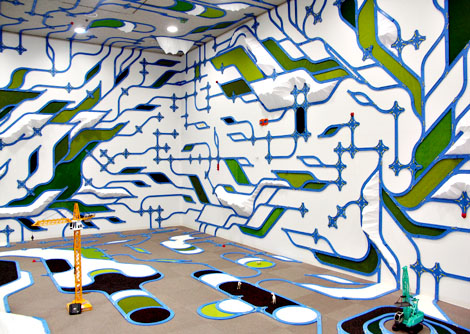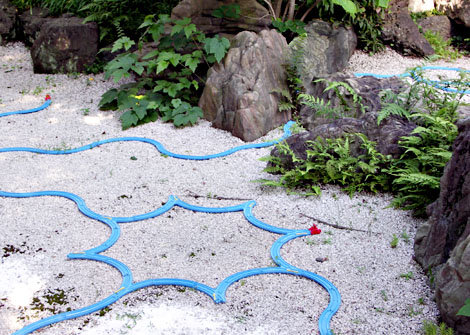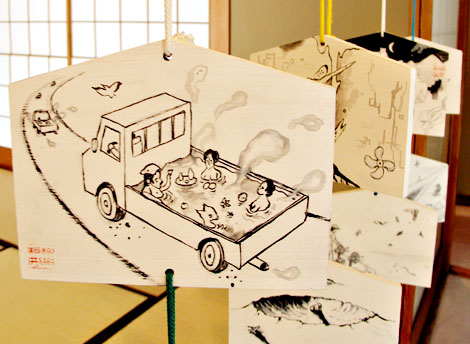 This week's feature:
"The world according to Paramodel" at Otani Memorial Art Museum, Nishinomiya
The artist duo Paramodel (formed in 2001 by Yusuke Nakano and Yasuhiko Hayashi) has transformed the entire museum into a construction site -- but none of these "parents keep children out" construction sites. On the contrary, the extensive installations assembled from blue plastic rails or gray PVC pipes, crawling up the walls, covering the ceiling, free of any function or purpose, fill us with a childlike joy.
Taking up the fascination with the temporary, unfinished state of a construction site, where all is still open to our dreams and imagination, Paramodel's constructions just don't end, they continue endlessly.
Their unrestricted creativity evolves not only in these installations, but also in the well known "tommy sushi" toy cars, paintings on wood boards (including those on
ema
, Shinto votive tablets) and even into the garden.
Admission: 500 Yen.
And there is even more Paramodel to see in Kansai at the moment: Mori Yu Gallery in Kyoto, the gallery that represents Paramodel, also shows their work.
Kyoto
Exhibition
"Ferita" by Takushi Aono at GalleryrellaG
(until July 31; 12:00 - 19:00, closed on Thursdays).
Exhibition
Yasuhiko Kida's world
at
Shibunkaku
(until August 01; 10:00 - 17:00, closed on Mondays; admission 800 Yen).
Exhibition
"Xの謎" (X-Ray riddles) at the museum of the University of Kyoto
(until August 29; 9:30 - 16:30, closed on Mondays and Tuesdays; admission: 400 Yen).
Flea market "Tenjin-san" on the grounds of
Kitano Tenmangu Shrine
(every month on the 25th).
recommended:
tommy "oden" toy cars, works from the breaker project and more
Blurring the borders of art, science, research and experiment
Utopian skyscrapers, castles and churches -- soft and playful
Material, transcending itself
Shintoism physically
| | |
| --- | --- |
| | Mitarashi festival at Shimogamo Shrine, one of my favourite traditional festival so far in Kyoto. The core of the festival is a purification ritual: After wading barefooted through a cold creek on the grounds of the shrine -- with a candle in your hand --, you will receive some fresh spring water to drink. This is believed to bring health and energy for the whole summer. (July 23 - 26; 17:30 - 22:30; donation: 200 Yen). |
Nishinomiya
recommended:
Constructing endless possibilities
Amagasaki
Exhibition
"Animals in Contemporary Art" at Amagasaki Cultural Center
(July 24 - August 29; 10:00 – 17:00, on Friday and Saturday until 18:00, closed on Tuesday; Admission: 600 Yen).
Osaka
Exhibition "Shigeo Fukuda's Visual Jumping" at ddd gallery
(July 13 - September 4; 11:00 - 19:00, on Saturdays until 18:00; closed on Sunday, Monday and on national holidays; opening: July 13, from 17:30 on).
Exhibition
"The Complete Posters of Tadanori Yokoo" at the National Museum of Art, Osaka
(July 13 - September 12:; 10:00 – 17:00, on Friday until 19:00, closed on Monday; admission: 1100 Yen).
Exhibition
"Planet Antiques" by Toshiyuki Shibakawa at YOD Gallery
(until July 31; 11:00 - 19:00; closed on Sunday and Monday).
Report session about
Noriko Yamaguchi's "Keitai Girl" performance during Art HK10
at
Gallery MEM
(July 25, from 18:00 on; reservation necessary).
recommended:
Foreigner's Live Art Guide
| | |
| --- | --- |
| | For more exhibitions and events about art and design in Osaka rely on FLAG. |
..........
On the Agenda are events in Kyoto - and also in Osaka and Kobe - that I'm interested in and plan to attend --

shamelessly subjective

.
Although the list isn't meant to be complete, I hope it provides some valuable tips for those interested in art and design in Kansai.
Kindly note that the above dates and times are subject to change.