Note:

This time the agenda covers two weeks.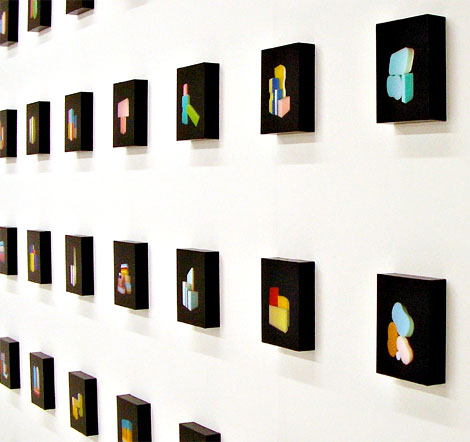 This fortnight's feature:
"BAU" by Takashi Suzuki at radlab exhibition projects*)
Shown in a tremendous variety, you will surely recognize the cleaning sponge you use. But are the pictured sponges still the same mundane everyday life stuff? Stripped of their function and architecturally assembled -- "BAU" is German and means "building" -- they look like skyscrapers, castles and churches, but of unusual quality: Soft, vibrantly coloured and playful. A glimpse of utopia.
*) in cooperation with Super Window Project
Kyoto
Exhibition
"Trouble in Paradise/Medi(t)ation of Survival"
at the
National Museum of Modern Art Kyoto
(July 9 – August 22; 9:00 - 17:00, on Fridays until 20:00, closed on Mondays).
Exhibition
Yasuhiko Kida's world
at
Shibunkaku
(until August 01; 10:00 - 17:00, closed on Mondays).
Exhibition
"Xの謎" (X-Ray riddles) at the museum of the University of Kyoto
(until August 29; 9:30 - 16:30, closed on Mondays and Tuesdays).
Antiques flea market on the grounds of
Toji Temple
(July 04, 7:00 - 16:00, on the first Sunday every month).
recommended:
Utopian skyscrapers, castles and churches -- soft and playful
Material, transcending itself
Nishinomiya
Exhibition
"The world according to Paramodel" at Otani Memorial Art Museum
(June 26 - August 1; 10:00 - 17:00; closed on Wednesday)
Osaka
Art Osaka 2010
(July 10 - 11; 12:00 - 19:00).
"@ YOU MORE BOOK" - a live book-making event at
E-ma's
gallery space
D~ba
(July 9 - 11).
Exhibition
"Planet Antiques" by Toshiyuki Shibakawa at YOD Gallery
(until July 31; 11:00 - 19:00; closed on Sunday and Monday)
recommended:
Award winning typography experiments
Foreigner's Live Art Guide
| | |
| --- | --- |
| | For more exhibitions and events about art and design in Osaka rely on FLAG. |
..........
On the Agenda are events in Kyoto - and also in Osaka and Kobe - that I'm interested in and plan to attend.
Although the list isn't meant to be complete, I hope it provides some valuable tips for those interested in art and design in Kansai.