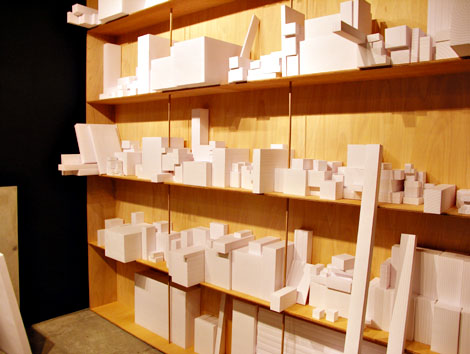 This week's feature:
"Direction of Materials" by Soshi Matsunobe at Super Window Project.
Although resembling the lumber storage rack of a carpenter's workshop, it is apparent that the material on this shelf is not meant to build any furniture. Made from paper, which originates from wood, and accurately printed with an abstracted but essential wood texture, this material gradually dematerializes, transcends itself -- taking us into the realms beyond material reality.
Super Window Project (map) might be a bit difficult to find, so take a taxi (approx. 640 Yen) from Kitayama station and leave it to the driver.
Kyoto
Exhibition "Bau" by Takashi Suzuki at
radlab exhibition projects
in cooperation with
Super Window Project
(until July 25; on Fridays, Saturdays and Sundays 13:00 - 21:00; opening reception on Thursday, June 24, 18:00).
Exhibition
Yasuhiko Kida's world
at
Shibunkaku
(until August 01; 10:00 - 17:00, closed on Mondays).
Exhibition
"Xの謎" (X-Ray riddles) at the museum of the University of Kyoto
(until August 29; 9:30 - 16:30, closed on Mondays and Tuesdays).
Flea Market "Tenjin-san" on the grounds of
Kitano Tenmangu Shrine
(every month on the 25th).
recommended:
Kafkaesque installation
Material, transcending itself
Nishinomiya
Exhibition
"The world according to Paramodel" at Otani Memorial Art Museum
(June 26 - August 1; 10:00 - 17:00; closed on Wednesday)
Osaka
Exhibition
"Planet Antiques" by Toshiyuki Shibakawa at YOD Gallery
(until July 31; 11:00 - 19:00; closed on Sunday and Monday)
recommended:
Award winning typography experiments
Foreigner's Live Art Guide
| | |
| --- | --- |
| | For more exhibitions and events about art and design in Osaka rely on FLAG. |
..........
On the Agenda are events in Kyoto - and also in Osaka and Kobe - that I'm interested in and plan to attend.
Although the list isn't meant to be complete, I hope it provides some valuable tips for those interested in art and design in Kansai.