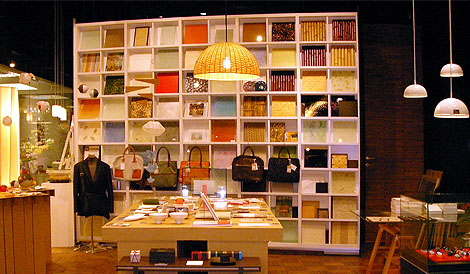 Carefully selected goods: aura shop in the Cocoon Karasuma building - currently with focus on "paper"
Kyoto
Exhibition
"KITSCH" by Kazuhito Maekawa at neutron gallery
(May 25 - June 6; 11:00 - 23:00, last day until 21:00).
Shoji Ueda exhibition ("photography and me") at the "Eki" Kyoto Art Museum
(until June 13; 10:00 - 20:00, last day until 17:00).
Exhibition
"Round and Rectangular" at the Kyoto Municipal Museum of Art
(until June 20; 9:00 - 17:00, closed on Mondays).
Exhibition
Yasuhiko Kida's world
at
Shibunkaku
(until August 01; 10:00 - 17:00, closed on Mondays).
Exhibition
"Xの謎" (X-Ray riddles) at the museum of the University of Kyoto
(until August 29; 9:30 - 16:30, closed on Mondays and Tuesdays).
Market for old shoji, fusuma, ranma at
Igawa Tategu
(May 29 and 30; 11:00 - 16:00).
Flea Market "Tenjin-san" on the grounds of
Kitano Tenmangu Shrine
(every month on the 25th).
recommended:
Paper balloons, wasara paper tableware, and other wondrous objects made of paper
Notions of water
Ever wondered about odd things found on the street?
Osaka
"TDC Exhibition 2010" at ddd gallery
(May 21 - July 03; 11:00 - 19:00, on Saturdays until 18:00; closed on Sunday, Monday and on national holidays).
..........
On the Agenda are events in Kyoto - and also in Osaka and Kobe - that I'm interested in and plan to attend.
Although the list isn't meant to be complete, I hope it provides some valuable tips for those interested in art and design in Kansai.