shows my mobile phone straps. The yellow-green-blue one is my adaptation of the
wakaba
sign.
Wakaba
literally means what the sign symbolizes, 'young leaf'. Novice drivers have to clearly display this connotation of nature on their vehicle for one year. It warns other road users to be aware of a possible improper way of driving.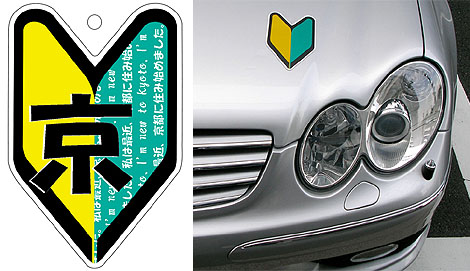 Due to its wide distribution and concise message, the
wakaba
sign is increasingly used in many other contexts as well, such as consumer electronics that are easy to handle for beginners, or introductory information for people without prior knowledge.
My adaptation of the
wakaba
sign adds the character 京 (pronounce: 'kyo'). This is the first character of 'Kyoto' when written in Japanese. Wherever this character appears--be it products, services, events, places, or information--it reveals at a glance that there is a connection to Kyoto.
Thus, the
Kyoto-Wakaba
signifies, "As for Kyoto, I am a 'young leaf'; I am a Kyoto novice". Sentences in Japanese and English, although mostly decorative and only readable on closer examination, express this explicitly, "I'm a new resident of Kyoto."
This badge as well warns to be prepared for unexpected actions, something that applies not just but also to road safety: Many's the time I've stopped walking abruptly or crossed the street when an interesting shop or an architectural detail caught my eye…
Unlike a vehicle, which is parked at times, a mobile phone is a constant companion. You hold it in your hand, have it in your pocket, or it is on the table beside you--and with it the attached strap. For exactly that reason, mobile phone straps are so popular in Japan: They are perfect to add an individual touch to slick devices and to communicate your personality.
Reactions to my
Kyoto-Wakaba
-mobil phone strap so far:
"A

Kyoto-Wakaba

mobile phone strap… I've never seen such thing before. Where did you bought this?"

"Did they give that to you at the

kuyakusho

(Ward office responsible for local residents' registration)?"

"Kawaii!" (I don't need to translate this, do I? "Cute!")

"You have to carry that with you for one year!"

"..."
Well, as long as this header picture is visible, expect me to carry my
Kyoto-Wakaba
with me. Secretly, I still hope for a Kyoto connoisseur who wants share some insiders' tips...
..........
You can neither buy the
Kyoto-Wakaba
nor receive it at the
kuyakusho
--but you
can download it here
. It is based on
this Wikimedia Commons file
.